Teeth Whitening Powder
$14.97
$29.99
SAVE $15.02
Whiten Your Teeth While Protecting Your Gums Naturally!
This Teeth Whitening Powder will brighten and whiten teeth while protecting your gums and enamel and keeping your mouth with fresh breath. 
No need to gargle for many times as it can easily create cleansing bubbles directly. No need for toothpaste or water! Made of 100% natural ingredients - it will clean your teeth without causing any damages. It contains activated deep sea pearl essence, it can effectively clean the dirt inside the teeth, remove the stubborn teeth stain and bacterial plaque.
FEATURES:
Effective In Brightening Teeth - Containing 1000 mesh size delicate pearl powder and Whitening Factors, it can penetrate the inside of the teeth to remove teeth stains and effectively brighten and whiten teeth while protecting gums and enamel, which can give you confident and will help your smile get white, bright and charming.
Effective Cleaning Ability - Containing cleansing ingredients such as Baking Soda, which can effectively clean the dirt inside the teeth, remove the stubborn teeth stain cause by coffee, wine, and other foods you can't live without. Effective but no harm to the teeth.
Diverse Oral Soothing Agents - Containing oral fresheners such as menthol and xylitol, which can inhibit and remove bad breath, thus keeping the mouth fresh. And because this Teeth Whitening is rich in foam and without any harmful chemicals, it's mild enough to replace the toothpaste for daily used.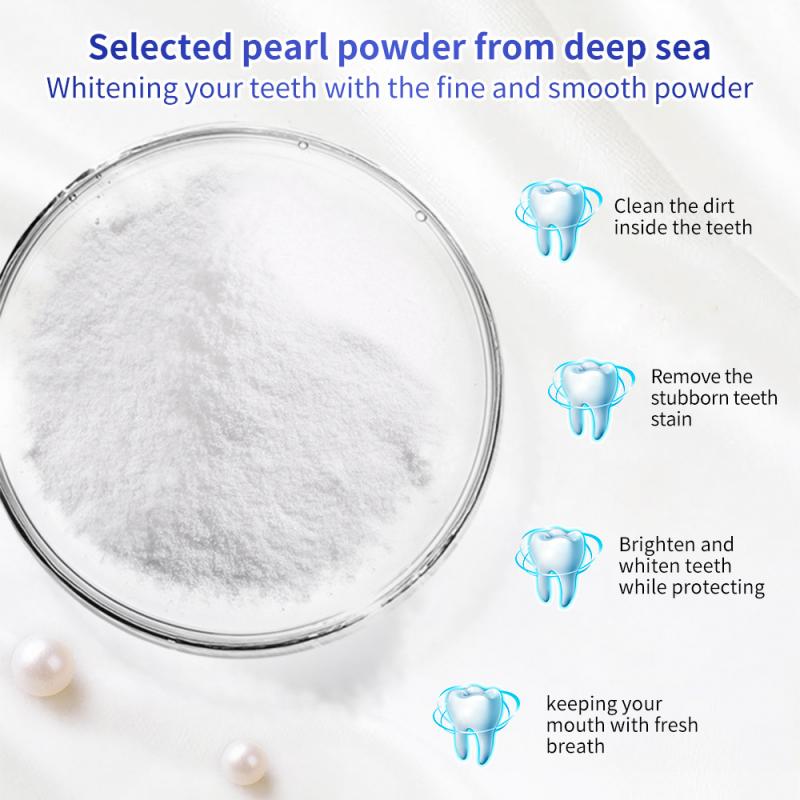 HOW TO USE:
STEP1 : Apply tooth powder on a toothbrush.
STEP2 : Brush your teeth as usual for 2 – 3 minutes.
STEP3 : Clean your mouth with water after brushing your teeth.
SPECIFICATIONS:
Net Content: 1.05 oz / 30 g
Shelf Life:3 years
Ingredients:Pearl Essence,Angelica Dahurica Extract, Whitening Factors, Di Water, Natural Enzyme Factor,Menthol, Xylitol, Mint Flavor
Caution:

For external useonly. If any discomfort occurs, discontinue use immediately. Keep out of reachof children.
PACKAGE INCLUDES
1 x Teeth Whitening Powder