Drying Your Clothes Just Got Easier and More Convenient!
Finally, an all-in-one solution for hang-drying your laundry. The Easy Hang allows you to dry your clothes anywhere and at any time! Our clothesline is lightweight, small in size, easy to store after folding, and easy to carry. It has a multi-grade windproof design, making it the best choice for your travel and outdoor experiences.
FEATURES:
WIND-PROOF DESIGN: Don't worry anymore about your clothes blowing away. WIth its multi-grid design, it is sure to make your clothes stay hung through the toughest of weather.
EASY TO PLACE: Drying your laundry has never been easier! Whether you live in the city or decided to take an exiting camping trip, you can dry your laundry anywhere without any complications.
QUALITY MATERIAL: Easy Hang is made of high-quality environmentally-friendly nylon rope. Compared with other ordinary clotheslines, it is thicker and firmer, more durable, and has a stronger carrying capacity. You can dry a load entire load at the same time. The stainless steel hooks are also resistant to corrosion and rust. 
TAKE IT ANYWHERE: With its convenient design, it allows you to wrap around in any object and fix it firmly & securely with the stainless steel hooks. You can literally dry clothes anywhere more effectively and effortlessly than ever before.
CAN BE USE & INSTALL ANYWHERE: Our clothesline can be installed anywhere such as home gardens, bathrooms, laundry rooms, balconies, hotels, and even trees! It is ideal for indoor and outdoor drying of clothes, bedding, and other lifestyle items.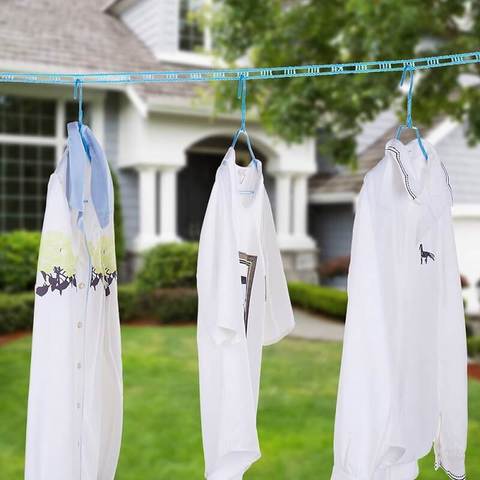 SPECIFICATIONS:
Material: Hand-woven Nylon
Color: Blue, Green, Pink
Lengths: 5 meter (16 feet) / 8 meter (26 feet) / 10 meter (23 feet)
Weight: 5 m: 43 g / 8 m: 63 g / 10m: 78 h
PACKAGE INCLUDES: